Lake Tahoe Outdoor Arena at Harvey's | Stateline, Nevada
The Rascal Flatts have been riding and living on the highway for 20 years…and now they're taking one last ride towards the end of the road… 'Life is a Highway' tour 2020 is the band's way of saying farewell to the fiercely loyal fans and followers who have journeyed with them through the years. Part of Rascal Flatts tour map is a stopover at Harveys Outdoor Arena on Saturday 11th July 2020, where fans from this neck of the woods can reel and rock with Rascal Flatts, one last time…for now. Be part of this uberly exciting road trip. Make sure you save your seat by booking your tickets right here, right now! Don't miss the bus!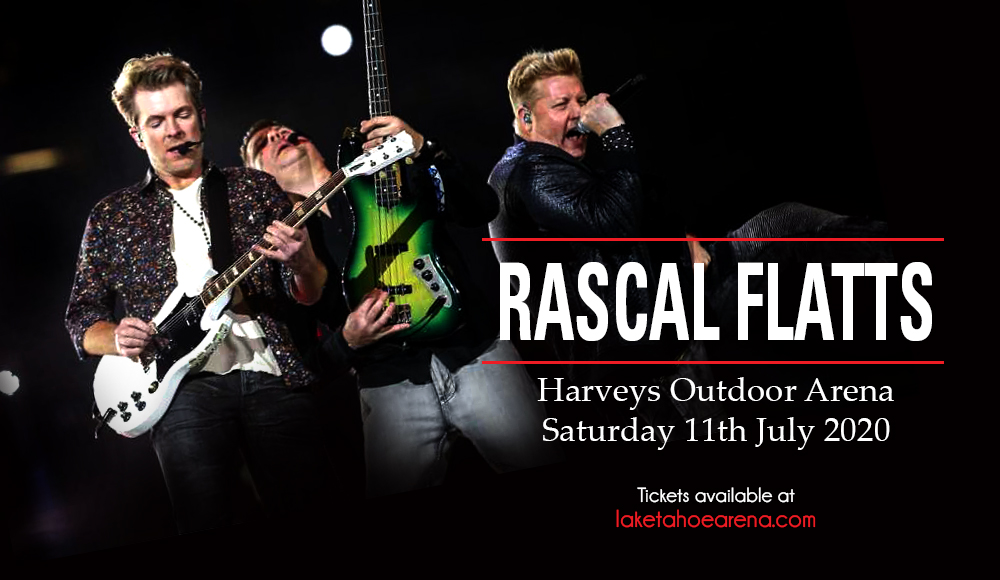 Country pop-rock group the Rascal Flatts has raked-in impressive numbers since they debuted in the year 2000. The Rascal Flatts has over 22.5 million albums sold and over 28 million digital downloads and delivered 15 #1 singles to the top of the charts. All these numbers may not mean a thing to some folks, but their hit singles "I Like The Sound of That," "Bless The Broken Road," "Fast Cars and Freedom", "What Hurts The Most", and celebrated cover "Life Is A Highway", have caused registers to ring to no end, and the airwaves resonate with these sounds that have filled memories and inspired souls.
"When we started out 20 years ago, we could not imagine all of the people, places and gifts we would encounter," singer Gary LeVox said in a news release. "The greatest feeling ever, is being told that our music has been the soundtrack to their lives."
The band has clarified that this is not a mere hiatus, but an end to their fruitful career as a band.
LeVox said: "We can't wait to celebrate this incredible 20-year journey all year, with our fans who we love dearly. I don't know what God has in store for the future, but I am excited to see what he has planned!"
"There is no sadness here, just new chapters, new journeys, and new beginnings.", says DeMarcus
The band is highly grateful to the fans who have been part of their journey, and acknowledge that the best way to give back is to go for one last joy ride.
"The fans drive our live show and also what we do in the studio. When we're on stage with all these variables, it's like mayhem! The energy coming toward the stage (from the fans) is very aggressive, and we have to turn it up to plow through that energy. We can pull it off, because that's what drives the show.", says Joe Don Rooney, Rascal Flatts' lead guitarist.
Now buckle-up this is going to be one helluva ride! Book your tickets now!