Lake Tahoe Outdoor Arena at Harvey's | Stateline, Nevada
One of the greatest rock voices of all time, Robert Plant, comes to Harveys Outdoor Arena on Saturday 23rd June 2018 with his phenomenal backing band The Sensational Shapeshifters! The Led Zeppelin frontman and revered solo artist will be joined for this intimate evening of music by "La Bamba" hit-makers Los Lobos in support!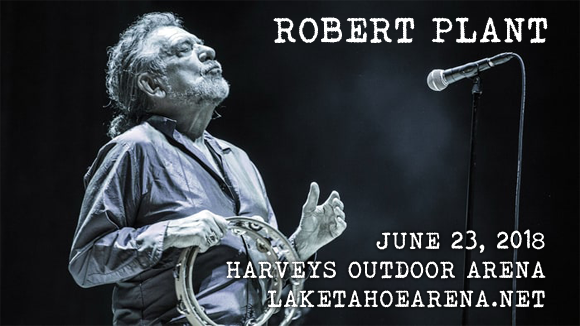 English singer, songwriter, and musician Robert Plant is widely regarded as one of the greatest vocalists in the history of rock and roll and is best known as the lead singer and lyricist of the rock band Led Zeppelin. His career first began in the mid-1960s as a singer for various bands when, in 1968, he met drummer John Bohnam and formed the rock band Led Zeppelin. The band's 1969 eponymous debut album is often credited as spearheading the heavy metal movement and launched their career as one of the world's most successful rock bands. When Bonham died in 1980, the band dissolved and Plant went on to pursue a solo career. To date, Plant has released eleven studio albums, two compilation albums, three video albums, four collaborative albums and forty two singles. He was appointed a Commander of the Order of the British Empire "for services to music" in 2009.