Lake Tahoe Outdoor Arena at Harvey's | Stateline, Nevada
'So baby pull me closer… to a rave party! It's time to raise your hands, jump, and scream as the beat drops at Harveys Outdoor Arena, on a show by the global EDM hitmakers, The Chainsmokers, on Friday, 8th of July, 2022. The DJ duo behind multi-platinum EDM hits "Paris", "Something Just like This", "This Feeling", and "Closer" just dropped their newest single "iPad" following the earlier-released "High", marking the duo's return to serving catchy synth-driven bops that took the world by storm. Two new singles in, can fans expect a new album from the world's hottest DJ duo? Well, 'all we know is they're hitting the stage for a live show comeback! Book your tickets now!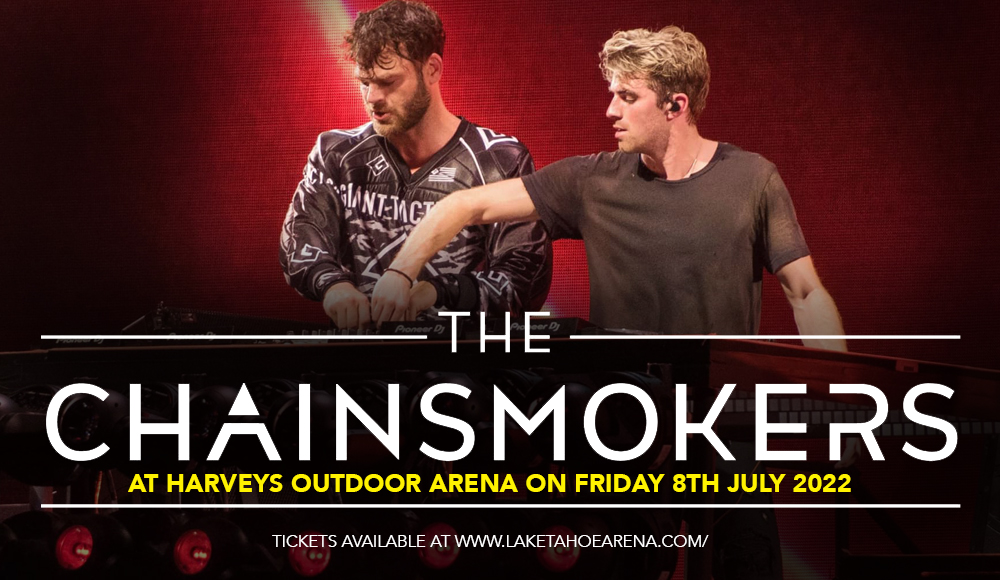 The Chainsmokers duo Alex Pall and Drew Taggart met in 2012 and started making remixes of indie tracks. By 2014, at the time when everyone started raising their phones and hitting the front-facing shutter, The world faced The Chainsmokers as they dropped their first global hit single "#Selfie".
From taking a #Selfie, the duo took the world by storm by 2015, dropping hits after hits with the likes of "Roses", "All We Know", "Paris", "Call You Mine", and the RIAA 14x Platinum-awarded single, "Closer". Their single "Don't Let Me Down" with Daya won the DJ duo a Grammy Award for Best Dance Recording. The group collaborated with multiple artists including Daya, Phoebe Ryan, Coldplay, Halsey, Bebe Rexha, and 5 Seconds of Summer.
To date, the band has three albums namely, "Memories…Do Not Open", "Sick Boy", and "World War Joy", which amassed several hit singles, making The Chainsmokers a nameplate in the global EDM scene.
After dropping "P.S. I Hope You're Happy" with Blink-182 in 2019, the DJ duo announced a hiatus from social media in February of 2020, allowing them to focus on their "next chapter in music", teasing a new album in the works. 2 years into the new decade, The Chainsmokers finally dropped two new singles "High" and "iPad" this year.
"Sometimes you let go just to know where to start. We wrote this song when I felt like I didn't have anyone to talk to. It wasn't that I didn't have anyone that would listen, but I had reached a level of cognitive dissonance that I felt was unexplainable. I don't keep a journal so writing this song and the others on this album (and past albums) is my opportunity to organize my thoughts. If you listened to Sick Boy you know what I mean. We feel really lucky we get to do it in song form and that you are willing to listen. It's helped us a lot, so thank you. The next bit of the story is called iPad and it's out now. Thanks for being here." says Taggart (Stereoboard.com, 2022).
Can fans expect The Chainsmokers to drop their new album real soon? Well, 'all we know is you can finally see the DJ duo make a live show comeback as EDM raises back to life as the crowd makes its return to even venues across the country. It's time to pull closer to the party and book those tickets now!