Lake Tahoe Outdoor Arena at Harvey's | Stateline, Nevada
Tim McGraw & Brooke Eden comes to Harveys Outdoor Arena on Saturday 23rd July 2016
Prepare to be swept off you feet by this hunk-of-a-country superstar! You know his songs by heart and you swoon over his TV and film roles and appearances. Yet, Tim McGraw best unleashes his charismatic appeal and passionate singing prowess when he performs on the concert stage.
Tim McGraw is back on the concert trail with up and coming star Brooke Eden, to spread some country love in concert venues all over the country. Hence, many are now jumping on the opportunity to give back the love and sing-along to his best-loved hits. Fans are now buzzing with giddy anticipation, so expect tickets to move quickly; and if you are not quick enough, you might just lose this opportunity. Hurry, get your tickets now!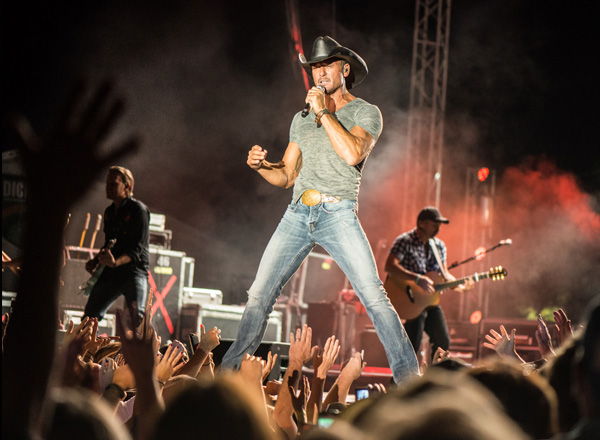 Baseball's loss is country music's gain. Tim McGraw juggled between sports, baseball in particular, and music. While enjoying a college baseball scholarship opportunity at the University of Louisiana at Monroe, McGraw dabbled on playing the guitar. Soon afterwards, he was beginning to be drawn more into music. Music wins eventually. After dropping out of college, the call of Nashville was so strong, and not long enough, he signed a record deal with Curb Records.
As soon as he released his debut album in the early 90s', there was no stopping McGraw from reaching the heights of success. Ten out of his thirteen studio albums were certified number one. His career is decorated with prestigious awards —three Grammy Awards, 14 Academy of Country Musicawards, 11 Country Music Association (CMA) awards, 10 American Music Awards, and three People's Choice Awards.
Here is Tim McGraw's long list of hit songs that notable country anthems to this day: "Don't Take the Girl," "Down on the Farm," "Not a Moment Too Soon," "Can't Be Really Gone," "It's Your Love," "Everywhere," "Just to See You Smile," "She Never Lets It Go To Her Heart," "Please Remember Me," "Something Like That," "My Best Friend," "The Cowboy in Me," "She's My Kind of Rain," and "Live Like You Were Dying."