Harveys Outdoor Arena Infomation
Harveys one-of-a-kind outdoor arena is an experience you'll be sure never to forget. Harveys encourages guests to partake in the surrounding amenities prior to their event. When visiting for a concert, concessions are always available inside the venue, as well as fine and casual dining beyond it. Feeling lucky? Don't forget to try your hand at the slots before walking to your event!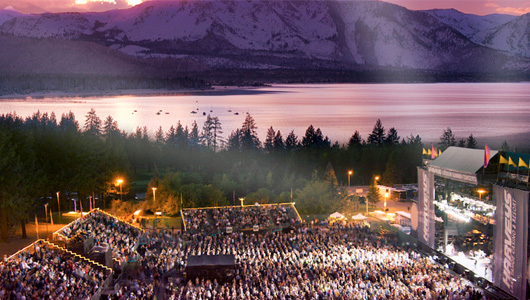 Parking is available at multiple locations, both at Harveys Resort and Casino and Harrahs Resort and Casino. Guests should be prepared to face challenges when exiting parking garages after their event. As the venue empties, it can create a bit of a traffic issue. To avoid any frustrations, guests can park elsewhere and walk to the venue, or travel inside the resort to wait out the rush.
Worried about arriving late and not finding the perfect seat? Tickets are all numbered, so you can rest assured yours will be empty and patiently awaiting your arrival. Feel free to bring cushions for your comfort, though be warned: you may wind up dancing more than sitting! Please note, Harveys event staff are wonderful and extremely attentive. Please keep your ticket handy as they are very diligent in ensuring all guests are in their proper section.
As the arena is outdoors, Harveys encourages guests to check the weather and dress appropriately. Layering is always helpful. Events go on in rain or shine. Refunds will not be given due to weather.
Portable bathrooms are available during the event. There are separate sections for women and men. Each system has a hand washing and drying section.
Food and beverage tents accept credit and debit cards, while mobile vendors accept only cash. Please be prepared with both.
Smoking is allowed, though guests are encouraged to take into consideration those around them.
About Lake Tahoe Outdoor Arena
Lake Tahoe Outdoor Arena at Harvey's (once known as Harveys Outdoor Amphitheater) is a massive temporary outdoor concert venue located in Stateline, Nevada. It can be found near scenic Lake Tahoe and is currently on the grounds of Harveys Lake Tahoe in the south parking lot behind the parking garage. At one time, the venue was held on the lawn before expansion of services pushed it to be moved to its current location for more guest space.
When the venue first opened on July 7, 1992, it held an inaugural show by the Gipsy Kings. Since then, and especially after the 2005 move and renovation, it was known for hosting some of the most thrilling concerts, live shows, and performances especially during its Summer Concert Series.
But these shows aren't all concerts as the venue has hosted outdoor comedy performances by big name comedians of past and present including Bill Cosby, Dennis Miller, and Robin Williams.
Currently, the venue owes its grandeur to its owner, CAesars Entertainment, who is best known for hosting fantastic gaming, hospitality, and recreation experiences around the world. And it is operated by Another Planet Entertainment.
Tenants at Lake Tahoe Outdoor Arena at Harvey's
As you can guess, this venue has become famous for its annual offers and events. These include summer concert series, as well as other annual musical events throughout the years. This tradition has been open since the venues 1992 founding before its move in 2005 and has continued on to this day.
Here's a brief list of the tenants and when they called Lake Tahoe Outdoor Arena at Harvey's home:
Lake Tahoe Summer Fest (1992-2002)
Outdoor Summer Concert Series (2002-04)
Blues by the Lake (2002-09)
Harveys Summer Concert Series (2005-present)
What It's Like At Lake Tahoe Outdoor Arena at Harvey's
You might be wondering what it's like to visit the venue. Well, one of the first things you notice is the bright and cheery mood that seems to radiate through the crowd to the performers on stage. The venue's close proximity to one of the world's best gaming resorts tends to leave guests in an energetic mood, which just amplifies during the busiest concerts.
Performers feel this energy and play some of the most stunning and experimental concerts around, with a vibe that is sincere, proud, and exciting!
And speaking of regulars, the crowd tends to be some of the most laid back and fun loving music lovers in the US. So everyone is there to have a great time and you can feel it from the moment you say "Hello". BUt more than that, the general vibe is just real relaxed, as everyone is there for recreation.
It helps that there's plenty of great tasting food and drink available nearby.