Harveys Outdoor Arena Infomation
Harveys one-of-a-kind outdoor arena is an experience you'll be sure never to forget. Harveys encourages guests to partake in the surrounding amenities prior to their event. When visiting for a concert, concessions are always available inside the venue, as well as fine and casual dining beyond it. Feeling lucky? Don't forget to try your hand at the slots before walking to your event!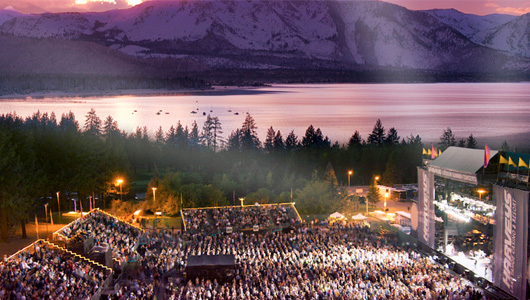 Parking is available at multiple locations, both at Harveys Resort and Casino and Harrahs Resort and Casino. Guests should be prepared to face challenges when exiting parking garages after their event. As the venue empties, it can create a bit of a traffic issue. To avoid any frustrations, guests can park elsewhere and walk to the venue, or travel inside the resort to wait out the rush.
Worried about arriving late and not finding the perfect seat? Tickets are all numbered, so you can rest assured yours will be empty and patiently awaiting your arrival. Feel free to bring cushions for your comfort, though be warned: you may wind up dancing more than sitting! Please note, Harveys event staff are wonderful and extremely attentive. Please keep your ticket handy as they are very diligent in ensuring all guests are in their proper section.
As the arena is outdoors, Harveys encourages guests to check the weather and dress appropriately. Layering is always helpful. Events go on in rain or shine. Refunds will not be given due to weather.
Portable bathrooms are available during the event. There are separate sections for women and men. Each system has a hand washing and drying section.
Food and beverage tents accept credit and debit cards, while mobile vendors accept only cash. Please be prepared with both.
Smoking is allowed, though guests are encouraged to take into consideration those around them.