Harveys Outdoor Arena Seating Chart
Harveys Outdoor Arena in Lake Tahoe is an open air venue located behind Harveys Hotel & Casino. Though the arena has the feel of an intimate venue, it has a seating capability of over 7000 guests.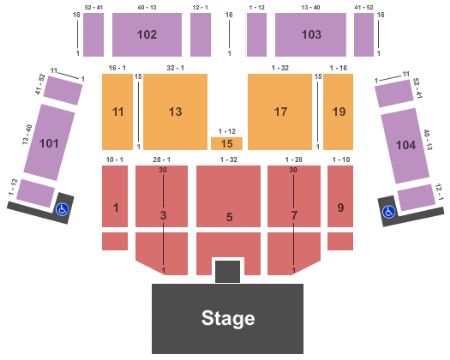 The seating area is arranged in a rectangular fashion. Individual chairs make up the majority of the venue, sitting at ground level with the stage a bit above them. Behind the individual seats are bleachers. Though farther away, they are raised and afford the guests an unparalleled view of the stage.
Lake Tahoe Outdoor Arena at Harvey's is a grand concert venue located on the grounds of Harveys Lake Tahoe in the south parking lot behind the parking garage. As of 2005, the performance space moved from its old location and expanded out to a space with room for a reported 9,300 guests for general admission standing room only events and 7,500 seats for reserved seating events.
During general admission events, guests are given spaces on a first-come, first-serve basis. This means that if you want to get up closer to the stage, then you should arrive early, because space can fill up fast. During reserved seating events, seats are arranged in the arrangement shown in the picture. The best spaces at reserved seating events are sections 3, 5, and 7 if you want the best possible view of the stage.
Accessibility Seating
Lake Tahoe Outdoor Arena is proud to offer all the ADA-approved accommodations it can. Accessible seating is available for guests in wheelchairs. This includes space for wheelchair and companion seats offered on a limited first-come first serve basis. If you require any further accommodations we recommend you call the venue as soon as possible (we recommend no less than two weeks before the event date). You can call the venue at 866-506-3454.
Seating price difference
The ticket pricing increases as follows:
1. Bleacher area
2. Individual seats
3. VIP seating
The VIP section consists of individual seats and is the closest to the stage. Guests in this section enjoy free food and alcoholic beverages.
Guests are able to bring cushions for seats, though are prohibited from bringing their own chairs.
Whether VIP or bleacher, the killer sound system and large screens make it an exceptional experience no matter which seating option you choose.