Lake Tahoe Outdoor Arena at Harvey's | Stateline, Nevada
There are some artists whose music was made for the summer, and Jack Johnson is one of them! The groovy troubadour will be bringing his sun-soaked melodies and fireside guitar to Harveys Outdoor Arena on Friday 28th July 2017 for a night of relaxed vibes and happy memories! Joining the "Breakdown" singer on his first North American tour in 3 years will be ALO!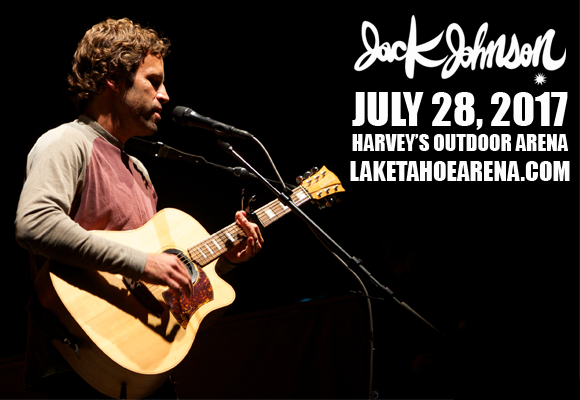 After appearing on the 1999 G-Love track "Rodeo Clowns" from the album Philadelphonic, singer, songwriter, surfer and film-maker Jack Johnson was launched into a music career of his own. Finding moderate success with the release of his 2001 debut album Brushfire Fairytales, Johnson has come to be known for singles like "Upside Down"; "Flake"; "I Got You"; "Sitting, Waiting, Wishing"; "If I Had Eyes"; "You and Your Heart"; "Taylor"; "Better Together; "Good People"; and "Breakdown." He has had four number one albums on the Billboard 200 chart ( Sing-A-Longs and Lullabies for the Film Curious George in 2006, Sleep Through the Static in 2008, To the Sea in 2010, and From Here to Now to You in 2013), and In Between Dreams, his 2005 album, peaked at number two on the chart twice, once the year it was released, and again in 2013. Johnson will be releasing his seventh studio album in summer 2017.