Lake Tahoe Outdoor Arena at Harveys
**CANCELLED** Unfortunately, this show will no longer take place, due to the passing of lead singer Chester Bennington.
***************
Fans of rap and metal, get ready for the ultimate nu metal tour – that's right, its none other than Linkin Park, on a massive 27-date tour across North America in support of their brand new, yet-to-be released album, "One More Light." With support from rapper Machine Gun Kelly, they'll be blasting their way to the stage of Harveys Outdoor Arena on Friday 1st September 2017!! Tickets for this in-demand event will sell out fast, so don't delay in getting yours – hit the "Buy Tickets," button and claim your place to see Linkin Park today!!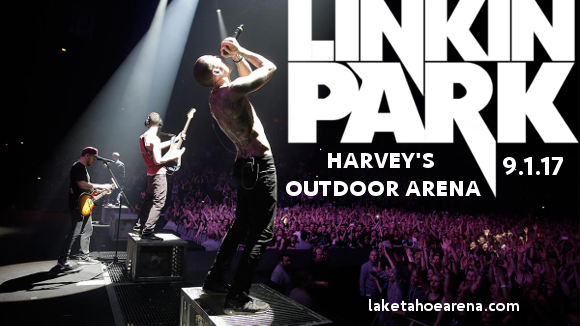 Taking the alternative rock world by storm with their debut album in 2000, the aptly named, multi-platinum selling "Hybrid Theory," and their follow-up, "Meteora," three years later Linkin Park firmly established themselves as a leading force in the nu metal genre with their fusion of rap and heavy metal. Named the "Biggest Rock Band in the World Right Now" by Kerrang! magazine in 2014, Linkin Park went on to embrace brand new sounds with their third album, 2007's "Minutes To Midnight". Described by the band as having more of a "stripped down, classic-rock and hip-hop kind of feel," the album was far more melodic, with rap vocals on only two tracks. Despite the change in sound, it was well-received by fans and critics alike, debuting at number 1 on the Billboard 200. From then on, Linkin Park went on to diversify even further, incorporating elements from everything from funk to electronica into their subsequent albums – with fans loving every minute of it!!
Don't miss your chance to see what they've got up their sleeve next – book your tickets to see Linkin Park live NOW!!